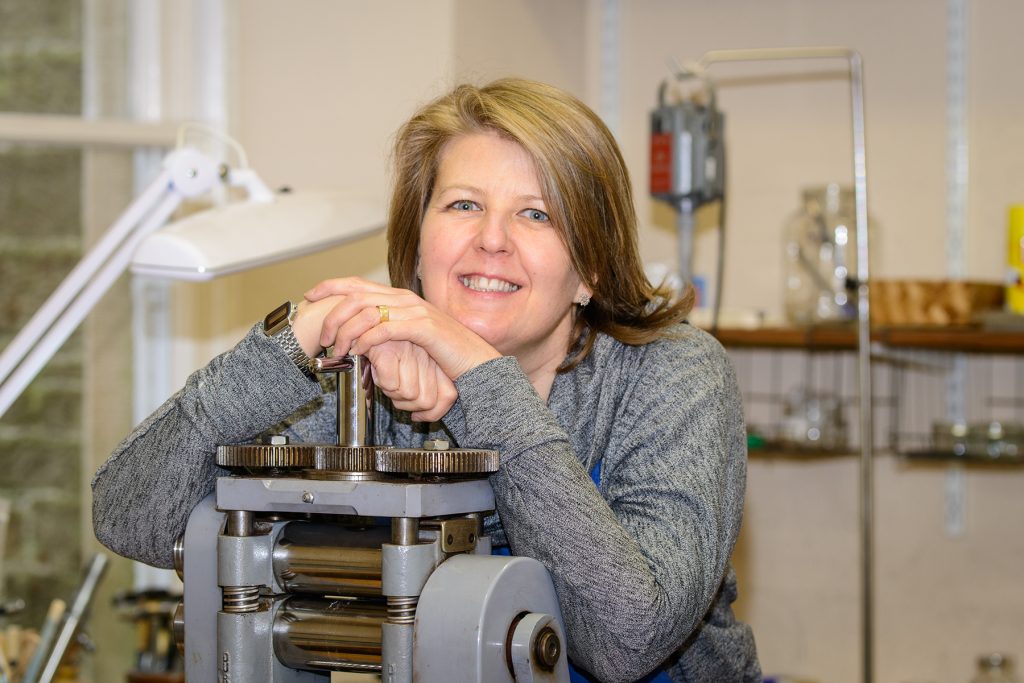 I'm a designer and maker of precious jewellery and former owner of Cut the Mustard Gallery in Langholm, South West Scotland.    I work  exclusively in 100% recycled or Fairmined, silver, gold, palladium and platinum. I can also melt down and reuse your old jewellery.  All of my gemstones are guaranteed conflict free, I also now have access to ethical, fully traceable, gems and diamonds, which meet fair trade principles.  My jewellery is vegetarian and vegan friendly, ethical (no child labour, no human rights violations, fair wages, environmentally aware) and responsibly sourced, click here to find out more.  I aim to do business differently, to be approachable, honest and transparent and to cause as little harm as possible to humans, animals or the planet.
I make my jewellery by hand in my Langholm workshop, using traditional tools and techniques and small batch production.  My work is sold via galleries and exhibitions throughout the UK and is hallmarked at the Edinburgh Assay Office, in addition, all Fairmined pieces will also have the Fairmined mark.
Do you have old family jewellery or something you no longer wear, that you'd like remodelled into something new?  If so, please get in touch, I'd be happy to do this for you.  About 80% of my work is to commission, sometimes for something similar to a piece in one of my collections, but often for something completely unique.  I'll work with you to design a piece of jewellery that means something special.
I'm a member of Spring Fling, a recipient of three Craft Maker Awards and a Regional Arts Fund Award.  
If you'd like to discuss your ideas for a commission, need some help with a special ring or gemstone for a proposal or have any questions about what I can do, please get in touch. You're very welcome to come and meet with me at my studio, but please call first.